Car and Modifications:
2011 BMW M3
Dinan 4.6L Stroker Motor
Dinan Underdrive Pulley
Dinan Stage-2 Intake
Dinan Throttle Bodies
Both CATLESS
Dinan X-Pipe
Akrapovic Evolution Exhaust
Dinan Stage-2 ECU Tune
91 Octane
DCT
Conditions (Dynojet Weather Station):
Temperature:: 68.26 degrees F
Atmospheric pressure: 29.94 inHg
Humidity: 45%
Density Altitude: 211 Ft.
SAE Correction: 0.968
STD Correction: 0.996
Uncorrected: 1.000
Results:
SAE Corrected: 386whp @ 8110 RPM, 303wtq @ 4250 RPM
STD Corrected: 397whp, 312wtq
Uncorrected: 398whp, 313wtq
Dyno Database:
Dyno files are available from the links below.
Individual Dyno Results:
Individual dyno results are shown below. SAE corrected results are shown twice, using two different sources. The first source (djc) are the SAE corrected results straight from the Dynojet. The second source (sae) of SAE corrected results are obtained by using the Kestral 4500 weather station data for each individual dyno run and running it through an independent SAE correction formula. This ensures that the dyno results are accurate and can be independently audited and verified for authenticity and accuracy.
The legend below has the following meaning:
Dyno Run: Dyno run file
Timestamp
Temp(F) = Temperature (Farenheit)
RelH = Relative Humidity
Pressure(Hg) = Barometric Pressure
DA(ft) = Density Altitude
IAT = Intake Air Temperature
Oil(F) = Oil Temperature (Farenheit)
O2(F) = Water Temperature (Farenheit)
WHP(unc) = Uncorrected wheel horsepower
WTQ(unc) = Uncorrected wheel torque
WHP(SAEd) = Dynojet SAE corrected wheel horsepower (SAE-1340 PRE-2004)
WTQ(SAEd) = Dynojet corrected wheel torque (SAE-1349 PRE-2004)
WHP(SAEk) = SAE-Adapted wheel horsepower (SAE-1349 2004+)
WTQ(SAEk) = SAE-Adapted wheel torque (SAE-1349 2004+)

* Entry used for the Dyno Database
Graphs:
SAE Correction: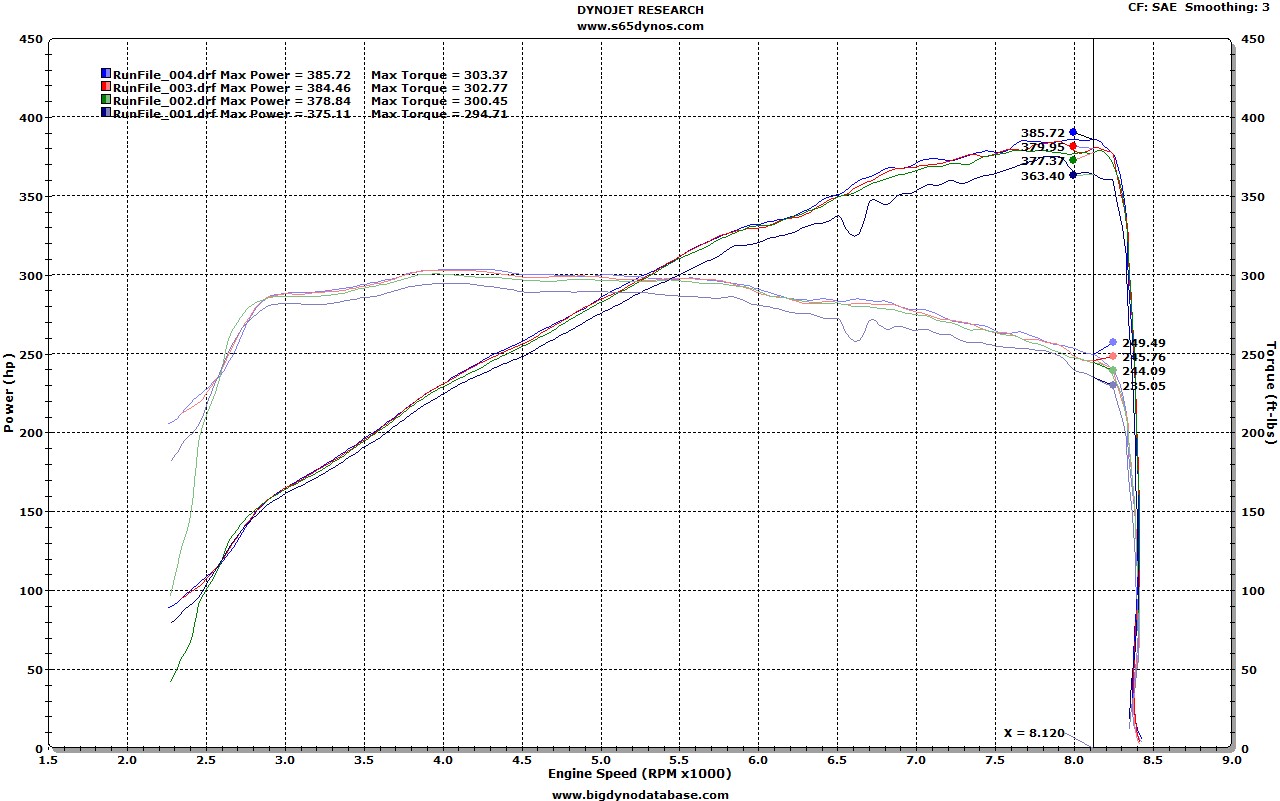 Comparison with Baseline: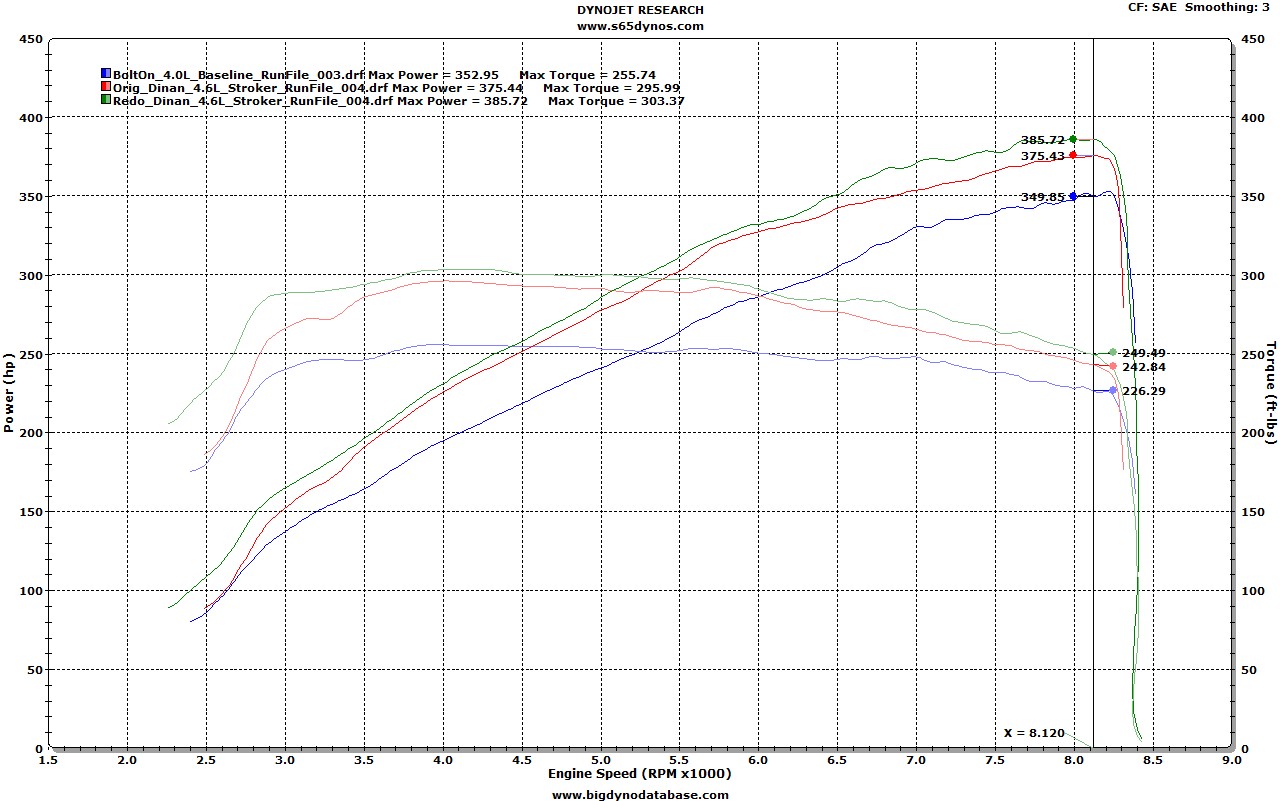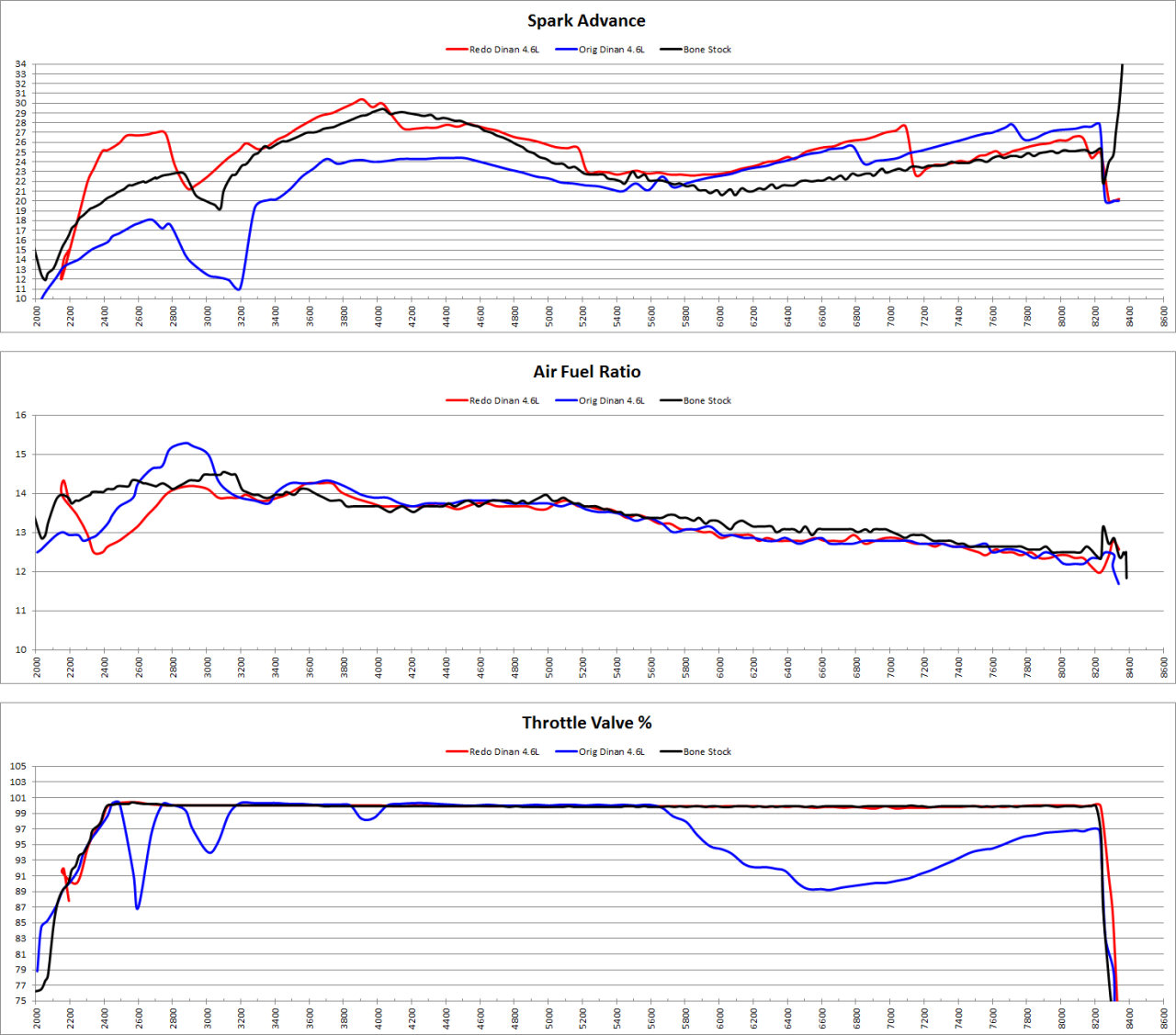 STD Correction: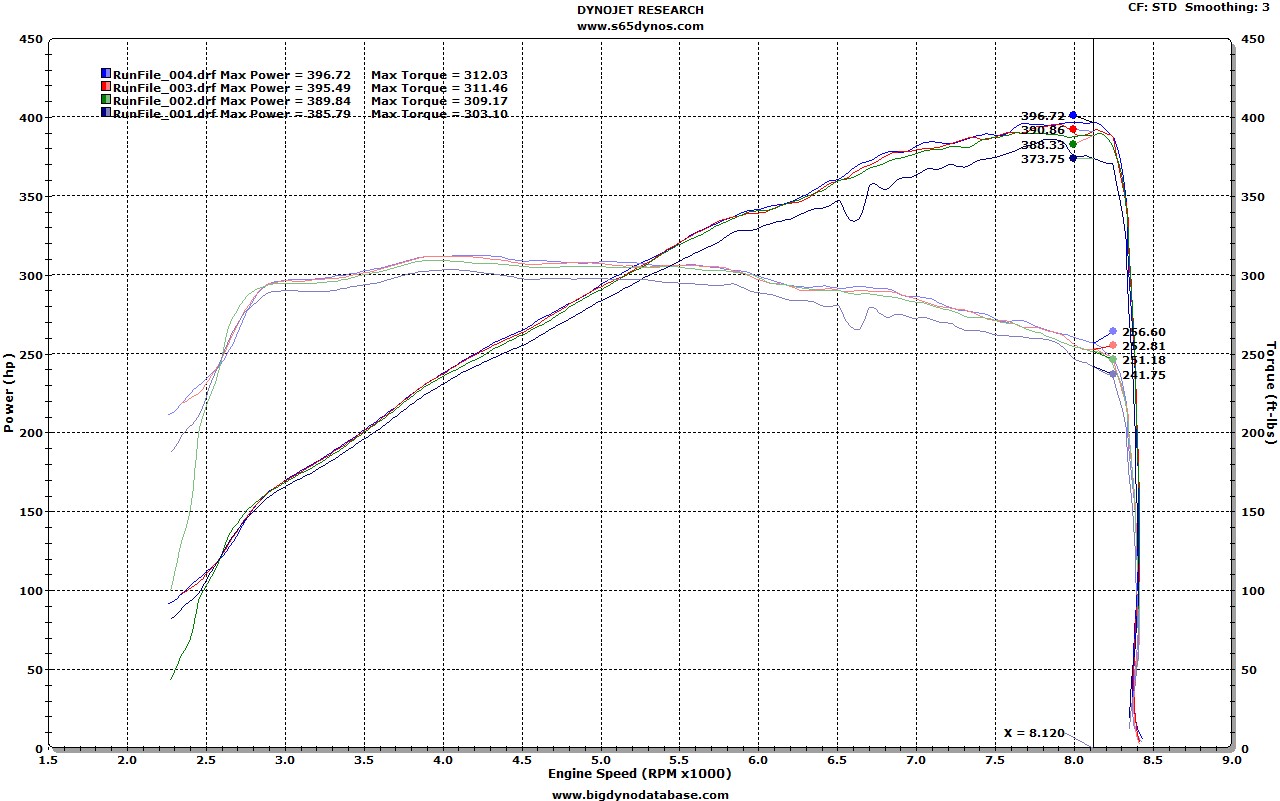 Uncorrected: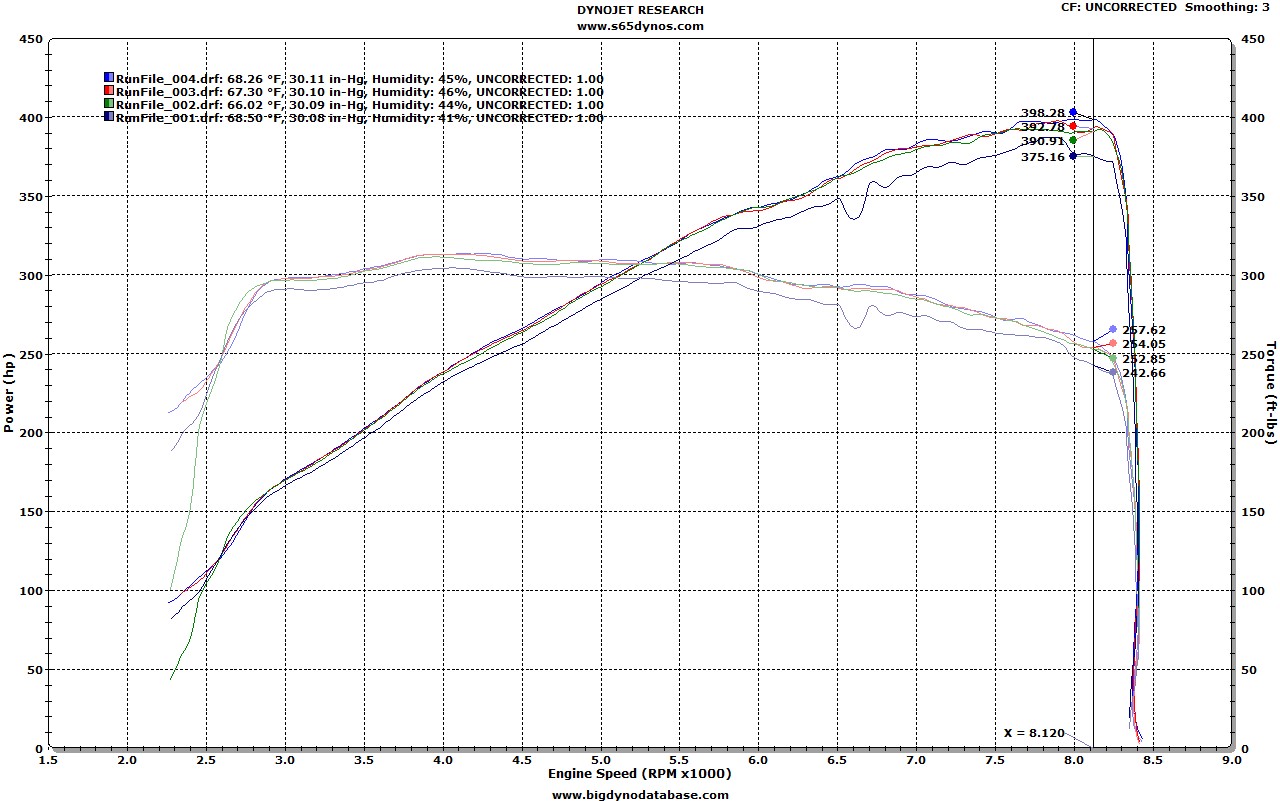 Engine Vital Statistics: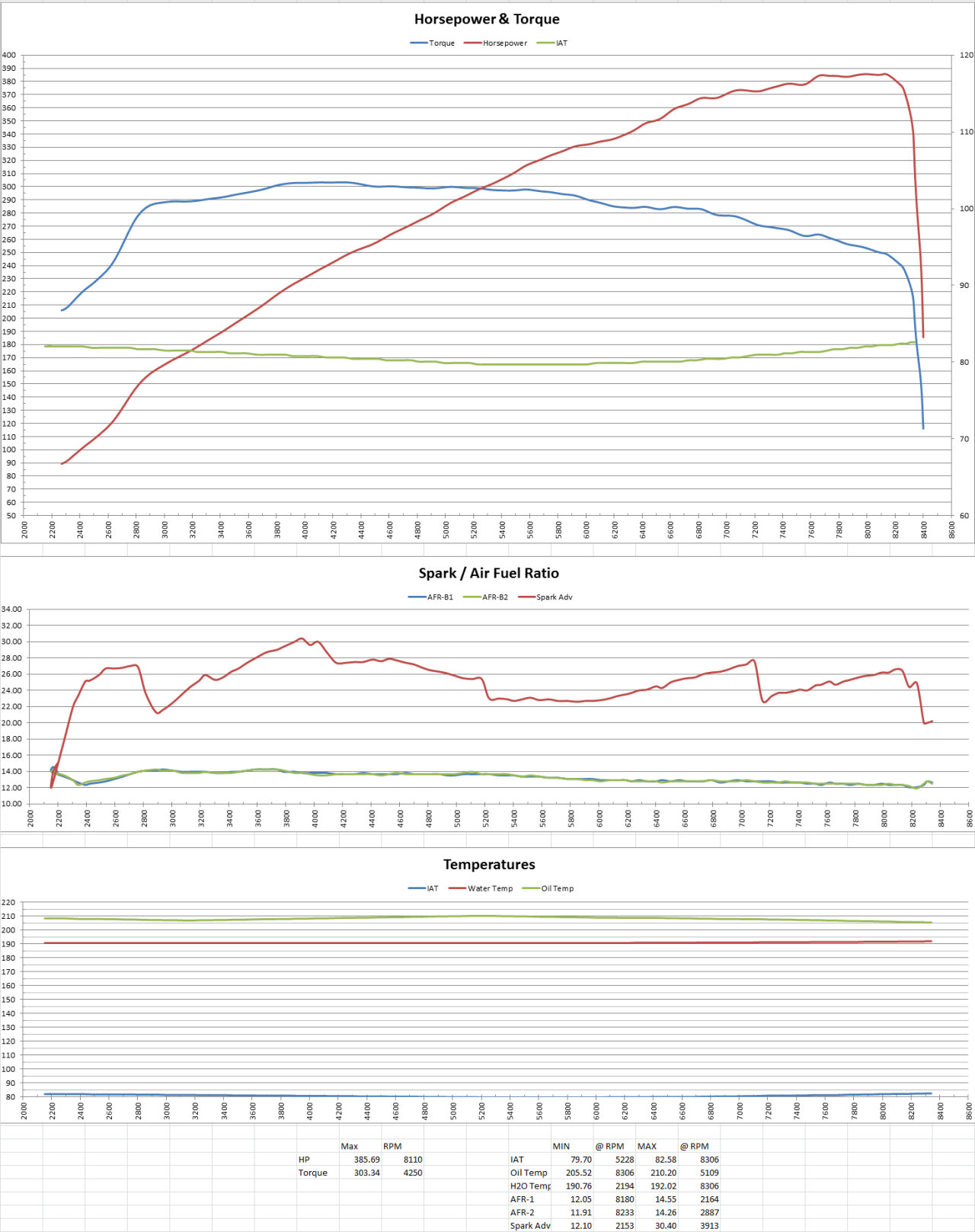 Comparison for all runs: